Item411 Help Library
Help Topics:
General Information

Item411 Basics

Item Search

Bid Wizard

Create a New Bid

Edit Functions

Export Functions

Schedule Functions

My Presentations

Price Plan Strategies

Ink & Toner

Reports

Custom Settings

Options

IT - Site Options

V1 - SP Richards EDI

V2 - Essendant EDI

V4 - Azerty EDI

V6 - Supplies Network EDI

V7 - Lagasse EDI

VA - SPR Canada EDI
Logging into Item411
Before you can login to Item411, you need a login and password from OPSoftware. Only OPSoftware can assign your login information.
Please note that logins from other sites will not work with Item411!
Enter your User ID and Password in the boxes provided on several of the landing pages: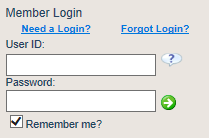 You can choose to check the Save login credentials box to have Item411 remember your login information on this computer.
Please Note: If more than three unsuccessful login attempts are made, you will be temporarially locked out of Item411. To remove the temporary lock, you will need to close your browser completely before reopening a new instance.
Additional Resources: